Immunohistochemical Lab from Hubei Cancer Hospital Joined the National Team(II)
CopyFrom: UpdateTime:2013-06-18 Hits: fontSize: Small Big
To further improve cancer prevention and control system, and to enhance cancer care services in Hubei province, the Health and Family Planning Commission of Hubei Province officially approved the establishment of Hubei Provincial Cancer Prevention and Research Center in October, 2004, affiliated to Hubei Caner Hospital. The Center was renamed formally as Hubei Province Cancer Center in 2011.
The immunohistochemical lab(IHC) of pathology department from Hubei Cancer Hospital(HBCH) had been certified in the "2012 National Immunohistochemistry Inter-Laboratory Quality Control" project. Five immunohistochemistry markers, CD20, CD3, AE1/AE3, ER and Ki-67 were involved in.
These five markers are generally related to the classification and prognostic evaluation of lymphoma, epithelial tumors, breast cancer, cervical cancer and other common tumors. The test results could sufficiently reflect the reliability, stability and quality control level of the participating labs. Remarkably, IHC lab from HBCH were awarded the certificate by PQCC of National Health and Family Planning Commission finally.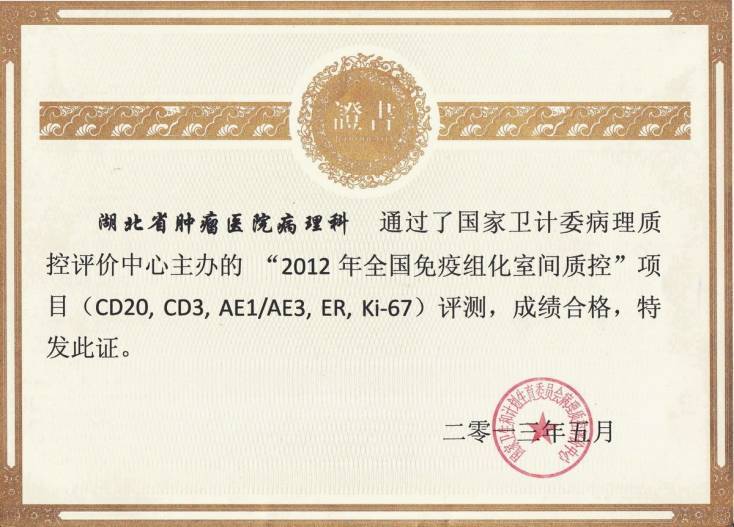 Certificate